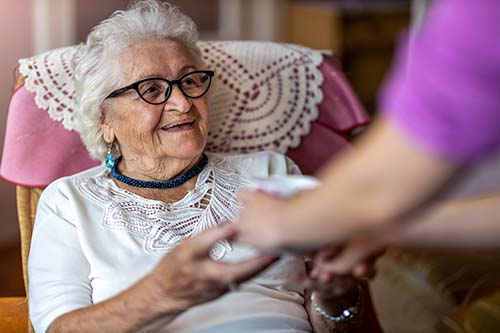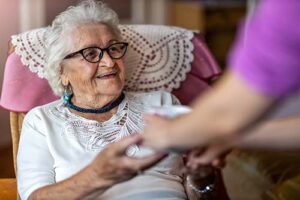 Hospice and palliative care offer relief from a serious illness's pain and symptoms. They also address patients' and their families' emotional, social, and spiritual needs. In fact, hospice is a type of palliative care for people in the final stages of life. Compare and contrast palliative care vs. hospice care and decide which works best for your loved one.
Compassus offers home health, infusion, hospice, and palliative care. Call 833.380.9583 to explore the difference between palliative care vs. hospice care.
Palliative care is for people at any stage of illness. The illness is not required to be life-limiting. Like hospice, palliative care addresses a patient's physical, emotional, social, and spiritual needs.
Palliative care patients can seek treatment to cure their illness or prolong life while getting medical help to manage their pain and other symptoms.
Why Patients Choose Palliative Care
Patients are commonly seeking relief from pain, fatigue, nausea, or the stress that comes with a severe illness or the side effects of medical treatment.
Because of Medicare requirements, hospice is typically utilized by patients with a life expectancy of six months or less. A patient's doctor and a hospice medical director work together to determine life expectancy.
Patients in hospice are not seeking a cure for their illnesses. Their goal is to manage pain and other symptoms to improve their quality of life with the time they have remaining.
Why Patients Choose Hospice
Patients sometimes decide they no longer want to go through painful or difficult treatments that may not improve or extend their life.
The Difference Between Palliative Care and Hospice Care Coverage
Palliative care consultations are covered by Medicare, VA benefits, and most private insurance plans. Co-pays may apply.
Medicare Part A benefits may cover palliative care, much like getting care from a specialist. To get palliative care at home, request a referral for home-based palliative care, which Medicare covers under some circumstances.
Medicare Part B may cover some of the services and supplies to treat your disease. They may cover palliative care treatments and medications if you qualify for Medicaid benefits.
Many private insurance plans also cover palliative care as part of their chronic care, long-term care, or hospice benefit.
Medicare, VA benefits, Medicare Advantage, Medicaid, and many private insurance plans cover hospice. Services related to the life-limiting illness, such as nursing and home aide visits, medication, equipment, and supplies, are covered with few or no out-of-pocket expenses.
Contact Compassus to Explore Hospice vs. Palliative Care
Meeting the end-of-life care needs of your loved ones with compassion and dignity is what Compassus is all about. Our programs and services include hospice, home health, home infusion, and palliative care.
If you are still determining which type of care is best for your loved one, reach out to Compassus. We can discuss the differences between hospice and palliative care to help you determine the best path for your family.
If you need clarification about your insurance coverage and what specific programs and services are covered, we can help. We are available to answer any questions and discuss payment options for our various programs and services. We can also help you navigate additional complexities related to insurance coverage or financial concerns.
Reach out today to learn more about Compassus. Our unique focus on each person as an individual, as well as a patient, compliments our goal of improving their quality of life in a meaningful way. Contact us today at 833.380.9583 or reach out to us online to learn more about palliative care vs. hospice care. We are here to help.