The ongoing COVID-19 pandemic has posed many new challenges and obstacles to our daily lives, and those in the healthcare field have been some of the most directly affected. Compassus offers home health, infusion, hospice, and palliative care to American families and remains steadfast in maintaining hospice safety during COVID-19 and support for you, your family, and our communities.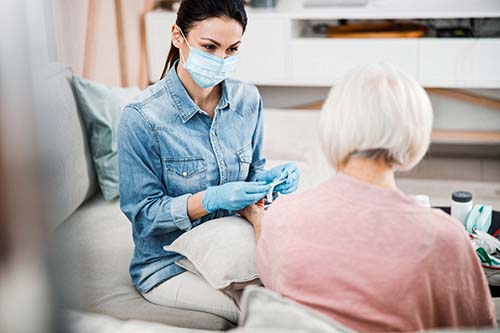 In many ways, hospice care has always enabled patients to live safely in the place they call home. Hospice nurses and staff have special training to reduce the risk of infections. They help patients and family members stay out of the hospital and live more independently. Call Compassus at 833.380.9583 to learn more about our services and the comprehensive safety procedures we employ.
Safe Face-to-Face Care when Needed
We continue to provide in-person care with extraordinary safety precautions, allowing for expert symptom management and ensuring our patients' care plans are carried out as promised. All of Compassus' caregivers are taking the necessary steps to protect our patients, staff members, and their families. This includes wearing personal protective equipment (PPE) and following safe practices, such as:
Using masks to cover noses and mouths when interacting with patients
Adhering to strict hand-washing protocols
Cleaning of patient and family areas by using EPA-recommended products
Maintaining social distancing following Centers for Disease Control and Prevention (CDC) guidelines
Quality hospice care puts safety first. Our team vigilantly follows all safety guidelines to minimize the risk of exposure to patients and families greatly.
Our Right Meds, Right Time approach eliminates unnecessary medications to keep patients safe and comfortable. Our pharmacists and clinicians work together to ensure patients receive the right medications at the right times in a safe manner.
Avoiding Falls and Injuries
We are trained to evaluate the home environment to remove dangers and keep patients safe. This leads to fewer ER visits and hospital stays. Falls and injuries are one of the most common risks for at-home patients. Our caregivers provide education and support to reduce this risk, including:
Helping family members learn how to move their loved one using appropriate equipment safely
Educating family members on how to prevent falls, including the use of gait belts when needed
Recommending simple safety equipment like grab bars in the bathroom or near beds
Assisting with exercises to improve balance and strength
Compassus is committed to providing hospice safety during this pandemic. Contact us today to learn more about our services and the steps we take to ensure our patients' safety.
Maintaining Proper Hygiene at Home
Managing personal care helps keep patients safe and at home. Our team helps patients and family members learn how to manage basic hygiene needs from the comfort of their homes. This includes:
Teaching proper hand washing
Recommending that patients and family members wear masks when visitors are present
Advising on the use of antibacterial soap for bathing and showering
Assisting with the safe use of bedpans, urinals, and commodes
Recommending regular cleaning and disinfecting of frequently touched surfaces
At Compassus, our highest priority is patient and family safety. Our clinicians are trained to stay on top of it.
During the COVID-19 crisis, telehealth helps us address patient issues quickly, improves the quality of life, and helps keep patients and families safe. Our clinicians provide real-time visits with patients via telephone or video to assess symptoms, answer questions, and provide support. This allows us to stay connected to patients and families without the need for in-person visits.
Contact Compassus to Learn More About Our Hospice Safety During COVID-19
Compassus is committed to ensuring the safety of our patients and their families during these unprecedented times. We understand how difficult this time can be and are here to provide support, resources, and compassionate care. Contact us today at
833.380.9583
to learn more about our hospice safety during COVID-19 and how we can help you provide the best possible care for your loved one.