Care Moment: Sylvia Gelineau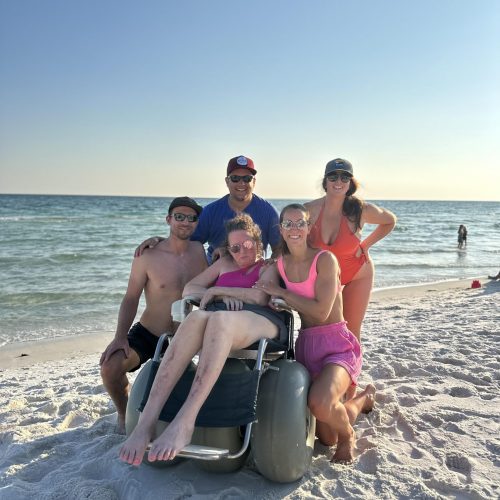 In the warm embrace of family, vacationing at the beach has been a long-standing tradition for the Gelineau family. Sadly, this cherished family tradition was disrupted by the onset of Alzheimer's disease for matriarch Sylvia Gelineau leaving her family wanting to find a way to recreate those precious memories. Sylvia's daughter, Brittany and son-and-law Graham have been her dedicated caregivers, while her son Brett resides out-of-state in Florida, making family reunions a bit challenging. Thanks to the Compassus hospice program serving Memphis, Tennessee, Sylvia, and her family were able to come together and make a heartfelt wish come true.
The Gelineau family's dream was to reunite at the beach, relive family traditions, and create new, lasting memories. With the compassionate assistance of the Compassus Living Foundation and our Memphis Team at the helm, this heartfelt wish was about to become a reality.
Our Memphis team reached out to Compassus Living Foundation (CLF) a nonprofit organization enabling loved ones, friends, and advocates to honor patients who have received hospice care. CLF immediately got to work in locating and renting a beautiful condo on Miramar Beach in Destin, Florida. This act alone was enough to make their beach dream a reality. When the time came for their family vacation, they were able to set aside their worries and enjoy a carefree week of sunshine and making lasting memories. The pictures from their vacation tell a heartwarming story of love, laughter, and unity, reflecting the priceless moments they shared during their time at the beach.
It's important to recognize the incredible effort and dedication of the Memphis team and the Compassus Living Foundation. Their commitment to our "Care for Who I am" culture made it possible for a family to come together for this special moment and a testament to the profound impact compassionate care has on the lives of our patients and families.
And, of course, we must extend our gratitude to the entire Gelineau family for allowing us to be a part of Sylvia's life journey. Their love and support for each other made this experience even more meaningful.
If you're inspired by the Gelineau family's heartwarming story and want to learn more about CLF and how you can help make Last Wishes come true for other families, please click on the provided link here. You can also find more information about the Memphis program by following the link provided here.
At Compassus, our value is in the compassion and expertise of our teams, which act as an extension of patients' existing care teams. We believe everyone who interacts with us should experience our individualized Care for who I am philosophy, from the care services we provide to patients and families to how we interact with our partners and one another.