Care Moment: A Grandfather's Misson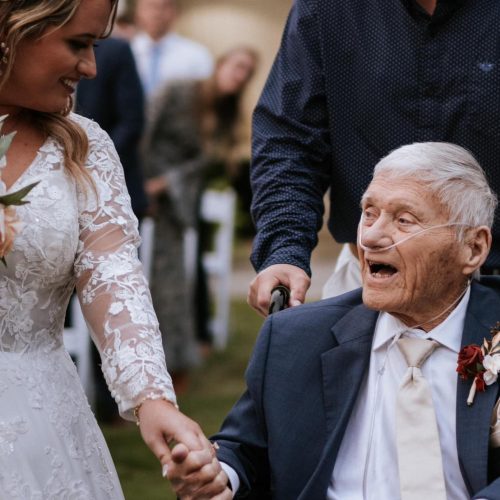 In Southside, Alabama, Madelyne Hayes Giamalva was busy planning her dream wedding. There were countless things on her list of wedding wishes, but one thing stood out above all others: she wanted her 89-year-old grandfather, Joseph Holmes, to walk her down the aisle.
Madelyne's grandfather was not just any ordinary person; he was Madelyne's best friend, and a patient in the Compassus hospice program. But this didn't stop him from setting out on what he called his 'Mission' of love and determination. His mission was simple, yet incredibly meaningful: to walk his beloved granddaughter down the aisle, share a special grandfather-granddaughter dance, and enjoy some delicious cake. After all, what's a celebration without good cake?
The journey towards this magical moment was not without its challenges. As the big day approached, doubts and worries loomed in the air. Madelyne wasn't even sure if her grandfather would be able to make it to the wedding. The uncertainty was nerve-wracking, but she held onto the hope that he would be there.
Just 30 minutes before the ceremony was set to begin, Madelyne received the wonderful news: her grandfather was not only going to attend the wedding but was also going to walk her down the aisle. The joy and relief that washed over her heart must have been indescribable.
Madelyne's words beautifully capture the transformation she witnessed in her grandfather that day: "Yesterday I saw a version of my best friend that I haven't seen much of in weeks. Sharp, funny, quick-witted, strong, determined, the life of the party." It was a testament to the power of love and the determination of the human spirit.
Joseph Holmes defied all odds and nurse's predictions to fulfill his mission. He proved that age, illness, and doubt couldn't stand in the way of his love for his granddaughter. He not only walked her down the aisle but also shared a special dance with her. And, of course, he savored every bite of the "really good chocolate cake." He was truly living his best life on that special day.
The story is a testament to the miracles that happen every day, reminding us that determination and love can overcome even the greatest challenges. Madelyne expressed her gratitude to Compassus-Southside for the amazing care they provided, making her grandfather's dream come true.
Joseph Holmes's remarkable journey was a beautiful reminder that love, family, and determination can make the impossible possible. His mission was complete, and it was a job well done. From the entire team at Compassus thank you, Mr. Holmes, for the honor of privilege of being even the smallest part of your mission and life journey.
To find out more about Compassus-Southside hospice program and their steadfast dedication to their patients, their families, and our 'Care for Who I am' philosophy click here.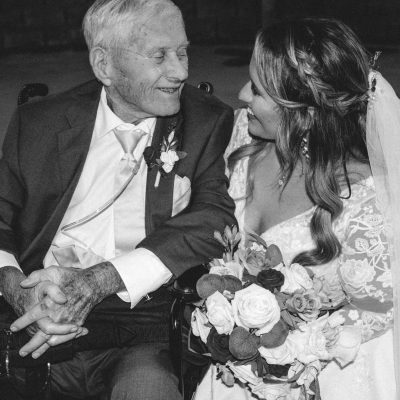 At Compassus, our value is in the compassion and expertise of our teams, which act as an extension of patients' existing care teams. We believe everyone who interacts with us should experience our individualized Care for who I am philosophy, from the care services we provide to patients and families to how we interact with our partners and one another.