Dayton, Ohio – Compassus, a nationwide provider of integrated home-based care services, including hospice care, held an honor service on August 30 at the Spring Hills Singing Woods Assisted Living Facility to celebrate the life and legacy of an outstanding local, John Swann Jr.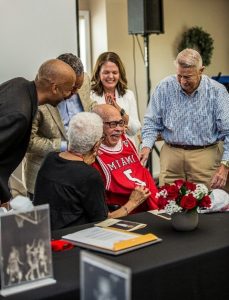 John Swann Jr., a member of the Spring Hills Singing Woods community, has left an indelible mark on the hearts and minds of those who know him. Swann set a milestone for African Americans in sports while playing basketball for Miami University in the '60s. At the time, a National Collegiate Athletics Association (NCAA) rule only allowed three African American players on the court at one time. By mistake, the coach sent in Swann and four other African American players, making history.
In addition to being a star basketball player, Swann was also an educator and administrator. He was one of the first students in 1956 to integrate at White Sulphur High School in West Virginia.
To honor his achievements, Compassus organized a special service to reflect on the positive impact he has had on the community. The event featured heartfelt speeches and reminiscences from friends, family and community members who have been touched by Swann's kindness, wisdom and leadership. Distinguished guests included Mayor Jeffrey Mims, Jr., representatives from the Miami University Athletic Department, including Swann's former coach, and Ohio NAACP Director Dr. Derrick L. Foward.
"We are deeply honored we had the opportunity to host this event for Mr. Swann," said Matthew J. Sowden, hospice regional market executive at Compassus. "His impact on the lives of those around him is immeasurable, and we are privileged to be a part of his life story."
For more information about the event, reach out to Lori Zamora at lori.zamora@compassus.com.
Compassus Dayton is located at 7755 Paragon Rd., Suite 106, Dayton, OH 45459. To learn more about hospice care at Compassus Dayton, contact the program at (937) 507-3633.