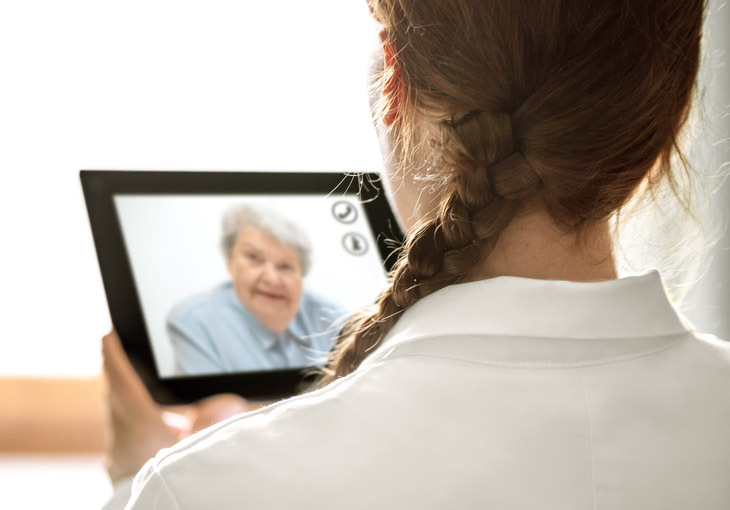 Virtual visits complement in-person care to ensure we are in tune with patient needs whenever we're needed. While telehealth doesn't replace in-person care, it's an important tool for communicating with patients and caregivers between home visits. In his interview with HomeCare, Compassus Chief Medical Officer Kurt Merkelz, M.D., offers recommendations to make these patient interactions even more effective.
The value of telehealth remains one of the most significant lessons from the pandemic. 
Nothing can replace the comforting presence of a clinician, but telehealth has proven its value as a means to increase access and supplement in-person care for patients. Instead of replacing face-to-face care, virtual services let health care providers offer additional resources and support that improve patients'—especially homebound ones—quality of life between in-person visits. 
Before the COVID-19 pandemic, few clinicians engaged regularly with virtual care platforms. For many, the pandemic has provided a crash course in translating high-quality care and a sympathetic bedside manner to a digital environment. 
Based on the firsthand experiences of home health clinicians, here are a few tips for successful virtual patient visits that can help maximize these interactions for clinicians, patients and families. 
1. Prepare for the visit. 
Providers should prepare for telehealth visits as they would for in-person appointments, and keep in mind that virtual visits require the same sensitivity as face-to-face encounters. 
By now, most providers are well-versed in the technical aspects of telehealth and understand the foundational aspects of preparation: dressing professionally, freeing themselves of distractions and looking into the camera as much as possible to simulate eye contact. Patients, on the other hand, may be new to telehealth technology if they haven't experienced it before and not know what to expect or do. 
When possible, spend a few minutes during in-person visits to ensure patients can sign on and use the telehealth system for future virtual encounters. Incorporate this as a standard step when onboarding patients so their time, and yours, focuses on their health, not technical issues. 
2. Watch for patient cues
As you listen to patients' concerns and questions, pay attention to signs of physical and emotional changes and ask about them. The limited view of your computer screen can make this more challenging, so make a point of looking and listening closely and asking probing questions. 
Do patients appear to be in pain when they move or adjust their position? 
Do they seem distracted? Are their responses hesitant, indicating anxiety? 
Are they finding it difficult to answer questions, signifying cognitive decline? 
Are there obvious signs of abnormal fatigue that could be caused by sleep deprivation? 
Is it apparent they have been crying and may feel depressed? 
Perhaps there is a new abrasion or bruise that could have been sustained in a fall. Ask them about it. 
It's easy to take virtual responses at face value, but train yourself to probe further. These are all important clues worth investigating. 
3. … And be mindful of your own. 
No one enjoys feeling like they aren't being heard, especially when they're dealing with an illness or recovering from surgery. Part of eliciting meaningful patient interactions is projecting sincere interest and concern. Be aware of how you come across to the patient. 
Are you looking at the patient's face when they are speaking, or are you looking at their chart on another screen? 
Are you typing or actively listening? 
What do your facial expressions say? 
Of course, checking notes and documenting visits is necessary, but patients may not know that's what you're doing. If you must look away or type during the visit, be sure to tell them beforehand. Also consider taking notes on the screen where your camera is located so your eyes are directed to the same place throughout the visit. 
4. Don't overlook the environment.
One thing some clinicians feel they miss during telehealth visits is the ability to observe the home environment. Let me be clear: Telehealth should not replace home visits, but can serve as an additional tool to supplement services between in-person visits. And virtual clinical sessions can still uncover important environmental limitations or deficiencies that could lead to clinical complications. 
By having discussions with patients and family members and carefully observing what's visible in patients' homes, clinicians can uncover critical needs. For example, clinicians can discern if patients can move about their home unimpeded (for those who are mobile), if they are taking prescribed medications, if they are able to address hygiene needs, and so on. 
5. Use in-person time wisely by maximizing virtual visits. 
Consider what can be accomplished virtually to maximize in-person interactions. For example, providers may offer in-person training on dressing changes during an initial home visit. Record and share videos of 
the same procedure so caregivers can access them on demand at any time. By empowering patients and family members with information, you may be able to reduce emergency calls and enhance outcomes. 
Spending time in patients' homes is critical to understanding how their living arrangements may impact their care or quality of life. Maximize in-person time to uncover barriers and connect patients with community-based services during virtual visits to address any unmet needs. 
6. Connect with community-based services. 
Transportation, access to food and the ability to meet financial obligations become more difficult when patients experience health issues. 
Unfortunately, social determinants of health may be exacerbated when patients are homebound and unable to seek out community-based services that can help with these issues. 
There are tools available to help identify needs, including several proven checklists that can be completed in advance of or during telehealth visits. The Centers for Medicare & Medicaid Services has developed the Accountable Health Communities Health-Related Social Needs Screening Tool, which addresses living situation, access to food, transportation, financial strain, mental health and more. Based on responses, social workers can connect patients to needed resources in their communities. 
7. Increase participation by inviting family caregivers. 
Appointments are often limited to the patient and a family caregiver and controlled by availability, distance or pandemic restrictions. Investigate whether your telehealth software can accommodate additional participants so more loved ones and family caregivers can be included in care planning meetings. 
As the provider, you may find the broader participation helpful in uncovering health or safety concerns and also in reinforcing your care plan. 
8. Check in by phone. 
Although telehealth and video capabilities have received the most attention, an old-fashioned phone call is still an effective and efficient way to check on patients between visits. There is no need to schedule video calls or confirm technology capabilities. Phone calls allow providers to address specific items and inquire about a patient's needs. These informal conversations also emphasize providers' availability and show they have a genuine interest in their patients' lives. 
The discussion about reframing telehealth in home-based settings continues, but the benefits are evident. When used to supplement in-person visits, virtual visits provide vital access to care and support. While in-person care can't be replaced, telehealth done well has the potential to enrich home-based services and the experiences of all our patients. 
Kurt Merkelz, M.D., is senior vice president and chief medical officer of Compassus, where he leads the company's quality and clinical initiatives, ensuring the delivery of quality patient outcomes and increased access to end-of-life care. He is triple-board certified in hospice and palliative care medicine, family practice and geriatrics.
Published in HomeCare magazine
Eight Tips for Successful Virtual Patient Visits
February 1, 2022.