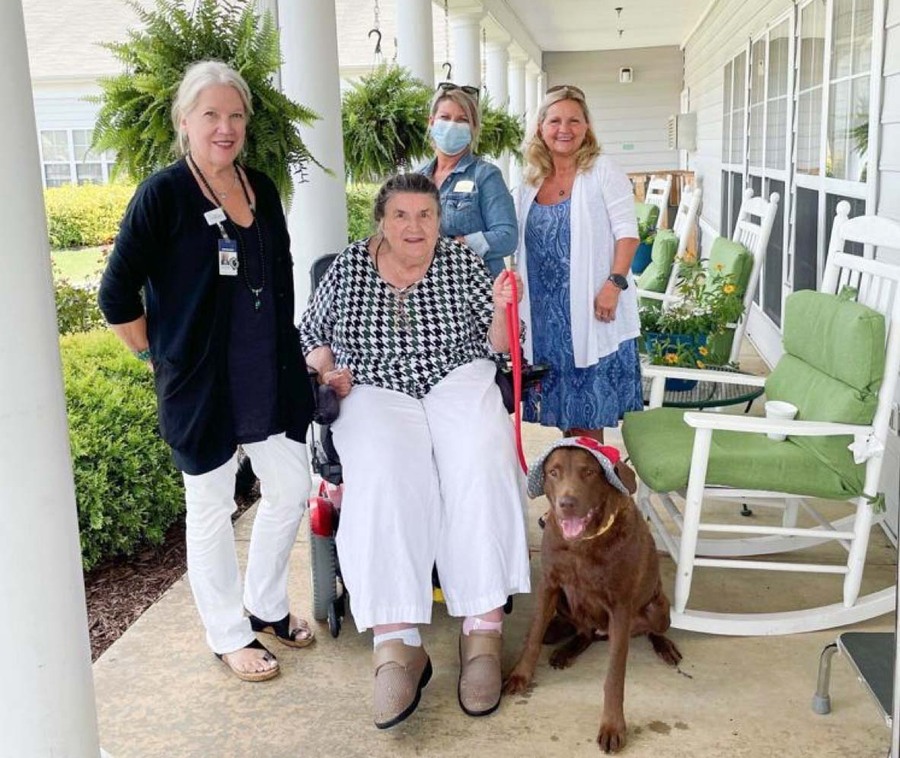 Residents and faculty at Morning Pointe were able to indulge in some pet therapy in celebration of International Assistance Pet Week.
Observed the first week of August, International Assistance Pet Week is designated to recognize the contributions assistance animals like guide dogs and therapy dogs provide to humans who need their services. Certified therapy animals provide love, happiness and comfort to people who may be struggling with stress or sickness, such as depression. They are commonly used in long-term care facilities to provide residents an opportunity to cuddle with an animal. They are separate from service animals, which are defined by the Americans with Disabilities Act of 1990 (ADA) as "a dog that has been individually trained to do work or perform tasks for an individual with a disability."
Morning Pointe residents and those working with Compassus in Tullahoma were able to receive comfort in the form of Ivy, a therapy dog with Pet Partners. Ivy, an 8-year old Chesapeake Bay Retriever, works with Music City Pet Partners in Nashville to provide canine comfort to myriad individuals in hospitals, long-term care facilities and more throughout Middle Tennessee. She has worked at Tri-Star Centennial Hospital in Nashville, Morning Pointe in Tullahoma and recently added work with Compassus.
According to her owner, Kelly Brunelle, whenever Ivy visits any facility, she can help out in a number of different ways. In Nashville, she told The News, the nurse stations inform her who is in need of a little canine comfort, and Kelly and Ivy head off to any number of connecting hospital buildings or departments. That visit provides a great space for Ivy to work and "a lot of variety."
"During COVID we were allowed to go to the nurses' stations and give comfort to the real heroes on the frontline," Brunelle said. Ivy has been stopping by Morning Pointe for the last two and a half years, according to Brunelle. How many people she visits during her stops can vary, though she has a regular place to go as well.
"She'll visit anyone that has their door open but mostly goes to the Lantern side and stays in a group setting," she said. "She will visit each person in the group and knows who needs the most love by snuggling with that specific person longer than the rest. She does tricks and makes them smile."
Before the COVID-19 pandemic hit, Ivy was regularly working two jobs per week. Nowadays, Brunelle said, Ivy is only taking on five or six jobs per month.
Another job Ivy took on pre-pandemic, "Read-with-Me," took place at Lannom Library in town, Brunelle added.
"A child would sign up and reserve a spot on Wednesdays to individually read to Ivy," Brunelle said of the program. "She really excelled with this program. We have also done group readings with several classrooms in the area."
More recently, Ivy began with at Compassus to provide comfort to hospice patients.
"We are very excited to be involved in this," Brunelle said, "even though sometimes not much comfort can be given to the hospice patient—the real comfort is to the family and caregivers."
No matter where Ivy goes, Brunelle said she is open and ready to provide comfort.
"When Ivy walks in to her regular visits, everyone knows her and is very excited to see her," Brunelle said. "She is an amazing animal."
She added she also loves going with Ivy to all the different facilities she visits.
"Ivy and I are very tight," she said. "We rarely are apart and enjoy each other's company immensely. Volunteering for these facilities helps me show what an amazing dog I am lucky to have."
In addition to providing love and comfort to those in need of it, Ivy also has her own Instagram account, @Ivythechessie, where fans and friends can see her on the job and "out of the office."
Brunelle also cares for Ivy's mother, 11-year-old Fern, and grand-dog, 14-year-old Willow.