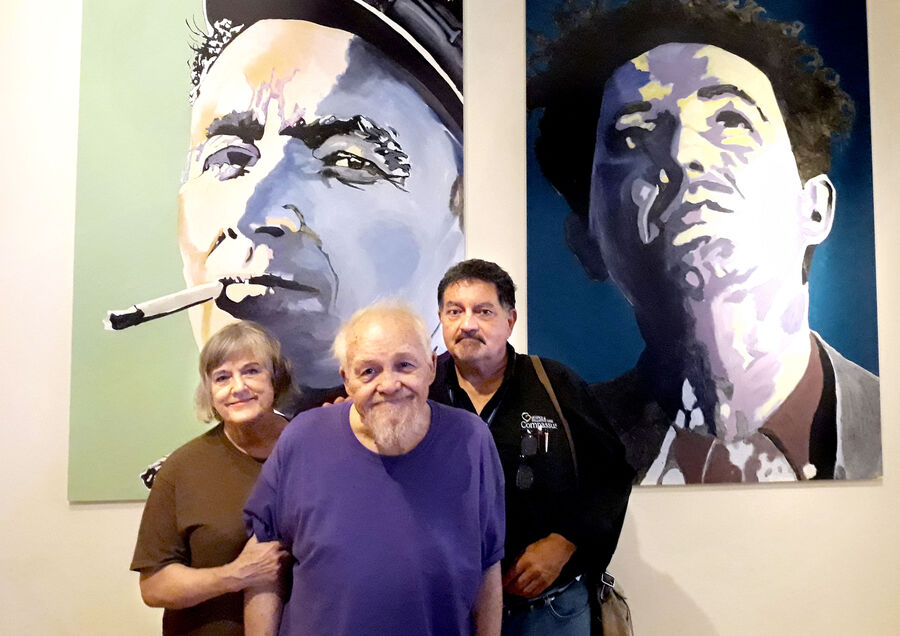 VINITA, Okla. – Compassus hospice patient and Vinita resident George Pringer celebrated his 80th birthday reliving childhood memories at the Woody Guthrie Center in Tulsa, Oklahoma.
Pringer grew up with the Guthrie family in the mid-1900s. His parents were Okies who traveled to California during the Dust Bowl period of the 1930s. During their time living in the migrant camps, they met Woody Guthrie through their mutual love for music. His mother often played guitar with him.
Pringer was born shortly after his parents moved back to Copan, Oklahoma, in 1939, in a boxcar. His family remained close with the Guthries, and Pringer formed a friendship with their daughter, Nora Guthrie.
"When I heard these stories from George, I knew there was something we could do to reconnect him with such a formative time in his life," said Ken Gerhart, bereavement coordinator and chaplain for Compassus – Vinita.
Sara Bailey, Compassus director of sales, contacted the Woody Guthrie Center and set up a personal tour for Pringer and his wife, Dixie, to commemorate his milestone birthday. Gerhart, who had become Pringer's trusted companion, joined them on their trip.
Jerry Wofford, education and public programs manager at the Woody Guthrie Center, escorted the trio on their tour, showing Pringer the many items on display, like Guthrie's lyrics to "This Land is Your Land" and the fiddle he had while serving in the Merchant Marines in World War II.
"We spend every day telling people stories about Woody Guthrie," said Wofford. "But when George came to visit, we had the opportunity to listen to stories about him, some we had never heard before. Hearing George's personal connections to Woody lifted the entire staff and affirmed the power that music has on all of us."
"A common misconception about hospice is that it is about giving up when, in fact, it is truly about living life to the fullest when time remaining is limited," said Gerhart. "Our goal is to bring peace, joy and meaning to patients and their loved ones. I'm so grateful to have had the honor to see George relive his childhood memories at the Woody Guthrie Center."
For more information about Compassus, visit our Vinita page or call (918) 782-1414.