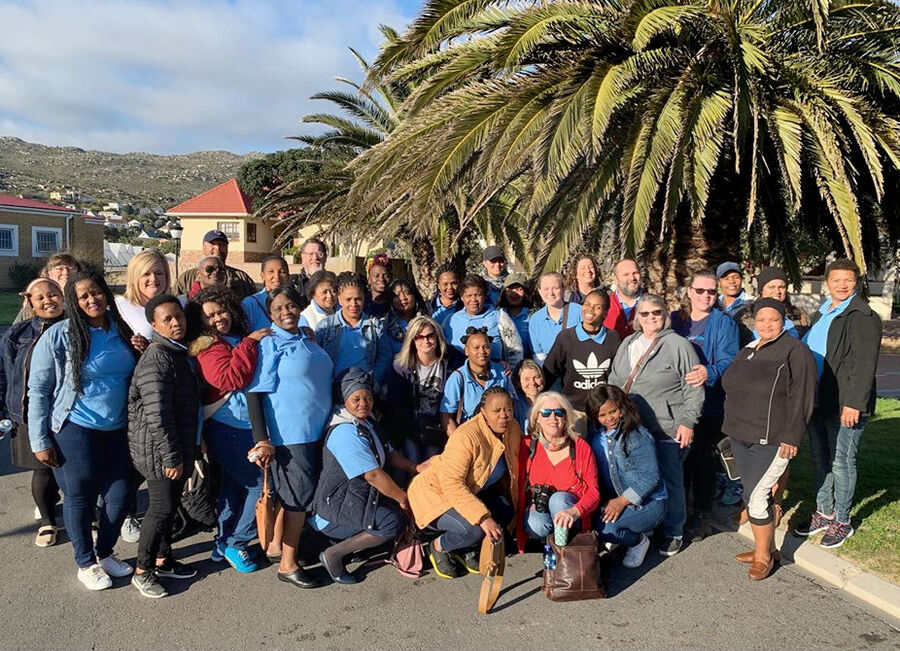 BILLINGS, Mont. – Compassus recently sent a team of 12 volunteers, including Sonia Birnel of Billings, Montana, to assist Living Hope, the company's sister hospice program in Cape Town, South Africa. The Compassus interdisciplinary team, which included registered nurses, hospice aides, a social worker, volunteer coordinator, chaplain and other colleagues, spent a week in Cape Town working side by side Living Hope clinicians and administrators.
"The mission trip to Cape Town was such a special gift," said Birnel, home health registered nurse case manager for Compassus – Billings. "The Living Hope team provides home visits, after-school activities for children and a safe environment for those recovering from substance abuse. I really enjoyed the emphasis on grace, love and hope for all."
Through an international partnership formed in 2011, Compassus donates monetary aid, medical supplies and health care expertise to support Living Hope's health care and hospice services in the impoverished township communities of Cape Town. Compassus matches voluntary employee donations dollar for dollar for total donations in 2018 of more than $123,000 to the ministry-based nonprofit.
"My heart will remain in Cape Town with Living Hope," continued Birnel. "I am so thankful for the opportunity to visit and experience how they care for their communities each day."
Living Hope offers health care services, counseling and education to more than 200,000 underprivileged residents in Cape Town. Its programs focus on improving general health and hospice care, HIV/AIDS treatment and prevention, and economic empowerment. Living Hope provides health care for more than 36,000 South Africans annually through in-home visits, medical clinics and a 22-bed inpatient hospice center.
"Compassion is at the heart of everything we do, and our compassion has an even broader impact when we have the opportunity to serve alongside Living Hope," said Becky Gilbert, executive director for Compassus – Billings. "We are proud of our team and their work with the people of South Africa, and I hope it inspires others to join the effort to advance the well-being of those facing life-limiting illnesses."
Learn more about our Billings location or call (406) 652-8883.