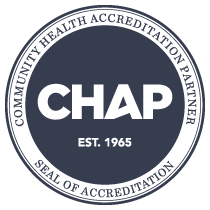 GREEN BAY, Wis. – The Compassus hospice program serving Green Bay has been awarded Community Health Accreditation Partner (CHAP) accreditation under the Hospice Standards of Excellence. Compassus – Green Bay initially received CHAP accreditation in 2014.  
CHAP accreditation demonstrates that Compassus – Green Bay meets the industry's highest nationally recognized standards for quality and compliance. The rigorous evaluation by CHAP focuses on structure and function, quality of services and products, human and financial resources and long-term viability. Adherence to CHAP's standards leads to better quality care and better business performance.
"CHAP accreditation is a testament to our program's commitment to quality as a cornerstone of operational excellence," said Andrew Goodman, executive director for Compassus – Green Bay. "We are committed to continuing to support the medical, emotional and spiritual needs of our patients and families by providing exceptional end-of-life care."
The mission of Compassus is to provide high-quality, compassionate hospice care to improve quality of life for patients and their families. The supportive care team, which consists of physicians, nurses, hospice aides, social workers, chaplains and volunteers, works together to meet the physical, emotional and spiritual needs of their patients.
CHAP is a nationally approved accrediting organization. Accreditation is an evaluation process to assess the quality of health care providers and reflects the organization's commitment and dedication to demonstrating a higher level of performance and quality patient care. CHAP-accredited home health and hospice providers demonstrate compliance with the Centers for Medicare & Medicaid (CMS) Conditions of Participation for Medicare Certification and CMS Quality Standards. More information about the CHAP accreditation process is available at chapinc.org.
Compassus – Green Bay serves patients and families in Brown, Calumet, Door, Fond du Lac, Kewaunee, Manitowoc, Marinette, Menominee, Oconto, Outagamie, Shawano, Waupaca and Winnebago counties. For more information, please visit our Green Bay page or call (920) 321-2004.