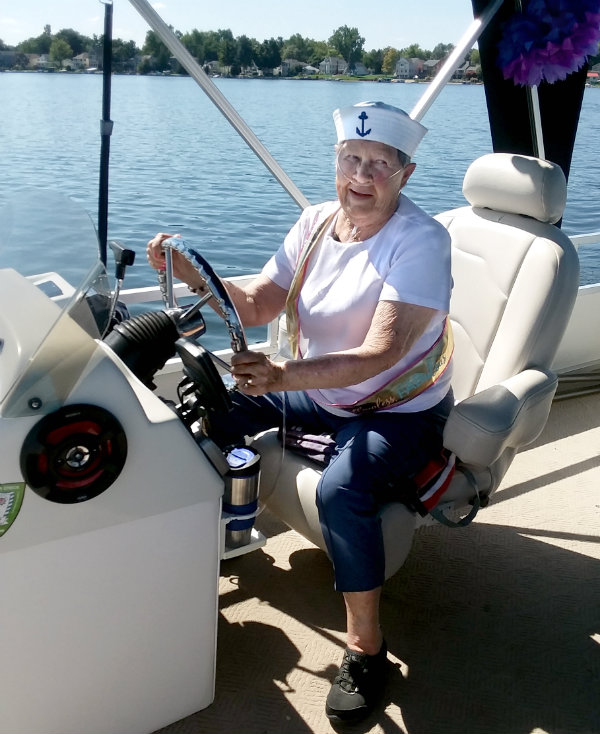 LANSING, Mich. – The Compassus hospice program serving Lansing and the surrounding areas, in partnership with Brookdale Senior Living, organized a last boat ride around Lake Lansing for hospice patient Chris VanBelois and her family on Wednesday, September 12.
VanBelois, age 86, lives at Brookdale Delta, a senior living community in Lansing, and has been a Compassus patient since January 2017. Her Compassus hospice nurse Mary McPherson learned about her love of boating during her weekly visits. Chris grew up boating on lakes around Michigan with her family and always enjoyed being out on the water.
"A common misconception about hospice is that it is all about dying when, in fact, it is truly about living," said Amy Kunzelman, executive director of Compassus – Lansing. "It's an honor to work with organizations like Brookdale to fulfill patients' dreams at the end of life, bringing peace, joy and meaning to them and their loved ones when their time remaining is limited."
Local community members donated use of a boat and captained the excursion. VanBelois' daughter Victoria joined her mother on the trip around Lake Lansing, where the two enjoyed lunch.
"We are grateful to have been a part of this experience for Mrs. VanBelois and her daughter," said Wendy Mehan, executive director of Brookdale Delta, who started an internal initiative to identify opportunities to make a difference in the lives of colleagues and residents. "We know this day created lasting memories they can keep close for a lifetime."
Visit our Lansing page or call (517) 886-8470 for more information.