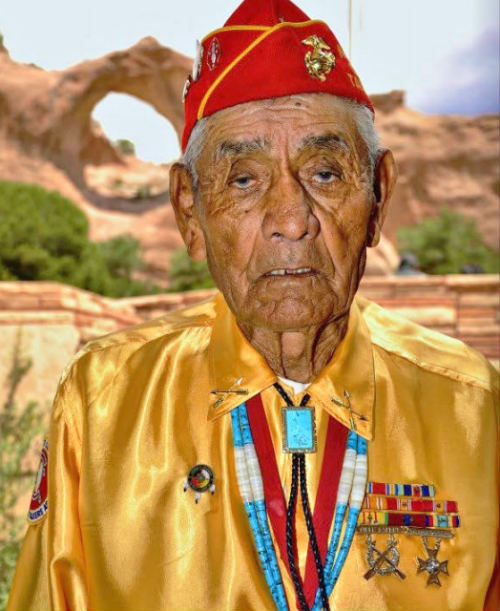 Recently, Compassus–Flagstaff had the privilege of serving a World War II veteran who helped shape the history of our nation in a unique manner.
George B. Willie, Sr. was one of a select group of Navajo Code Talkers who used their native language as a means of secret communication for U.S. forces during World War II. Their primary job was to transmit classified tactical messages over telephone and radio communications using codes built around the Navajo language.
The syntax and tonal qualities, which differ even among the numerous dialects, makes the language unintelligible to outsiders. The Code Talkers were commended for their skill, speed and accuracy throughout the war.
It wasn't until 1997, after the government released information on the existence of Code Talkers that Willie began to share his experiences with his family. Like many Navajos, the Japanese attack on Pearl Harbor on Dec. 7, 1941, inspired Willie to join the armed forces. However, he was too young and had to wait two more years until he was 17 before he could enlist.
Willie served in the Marine Corps with the Second Marine Division from 1943-1946 as part of a specially chosen Navajo speaking contingent of the Marines. Following in the footsteps of the original 29 who developed the code, he delivered and received messages the Japanese were unable to decipher. Willie participated in the Battle of Okinawa, serving as a vital communication link between the action that was going on all around him and headquarters, which was directing the battle.
He was born in a small Navajo community in Northern Arizona. His mother died when he was young and in addition to his father, who was a lumberman, he was cared for by his grandmother, aunts and uncles. He remembered as a boy waiting by the gate of the sawmill for his father to get off from work, and they would walk home together to where his grandmother awaited them.
Willie went to school through the seventh grade. His education ended at a vocational school where students studied academics in the morning and took farming courses in the afternoon.
Upon his return to the United States from military service, Willie lived in Leupp, Ariz., where he cared for an ailing grandmother who had helped raise him and tended her sheep. During this time he met and married his wife, Emma Jean.
Willie retired from the Leupp school district where he'd worked as a janitor. After retirement, he spent time herding sheep and marking their paths with stones.
He enjoyed singing gospels. Willie participated in the Navajo Code Talkers Association and traveled with the organization to bring attention to the achievements of Marine Code Talkers.
Willie's contributions were officially recognized in 2001 when he received the Congressional Silver Medal. With family present, Ryan Zimmerman, Compassus–Flagstaff chaplain, performed a veteran pinning ceremony to recognize and honor Willie's contributions to the safety and security of our nation.
George B. Willie, Sr., a well-respected member of the community and Navajo nation, passed on Dec. 5, 2017, at the age of 92. He is survived by his wife of 60 years, Emma Jean, 10 children and many grandchildren. His memorial was held at the Arizona Veterans Memorial Park at Camp Navajo in Bellemont, Ariz.
It was an honor to pay tribute to Mr. Willie and the Navajo Code Talkers. Their unique contribution to the preservation of our country serves as an enduring symbol of pride for their families and the nation.