Care Moment: Thomas Lorbeck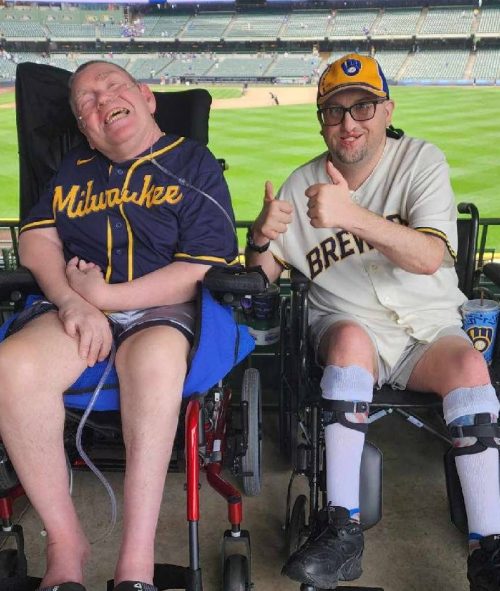 When Thomas Lorbeck was asked, "If you could make a wish come true, what would that wish be?" he responded with great enthusiasm: "I would love to see a Milwaukee Brewers game in person with my group home family."
Upon hearing Thomas's heartfelt wish, the Stevens Point Hospice Team sprang into action to make it a reality. Collaborating with the Compassus Living Foundation (CLF), the team successfully secured eight tickets, a parking pass, and a Brewer's game jersey for Thomas. The Compassus Living Foundation is a nonprofit organization enabling loved ones, friends, and advocates to honor patients who have received hospice care. 
The Stevens Point Team went the extra mile by contributing gift cards, ensuring that the group could enjoy refreshments during the game. Remarkably, Thomas had never attended a Brewers game where they lost, and that day was no exception! Despite the four-hour round trip, it was a resounding success, with everyone having a blast, and Thomas's joy-filled face spoke volumes. While it took the combined efforts of several team members working closely with CLF to make this wish come true on short notice, a Stevens Point social worker summed it up best: "…it's why we do what we do!" We extend our heartfelt gratitude to the Stevens Point team for embodying our 'Care for who I am' culture and creating such a cherished and unforgettable experience for Thomas.
See our Stevens Point program here.
At Compassus, our value is in the compassion and expertise of our teams, which act as an extension of patients' existing care teams. We believe everyone who interacts with us should experience our individualized Care for who I am philosophy, from the care services we provide to patients and families to how we interact with our partners and one another.