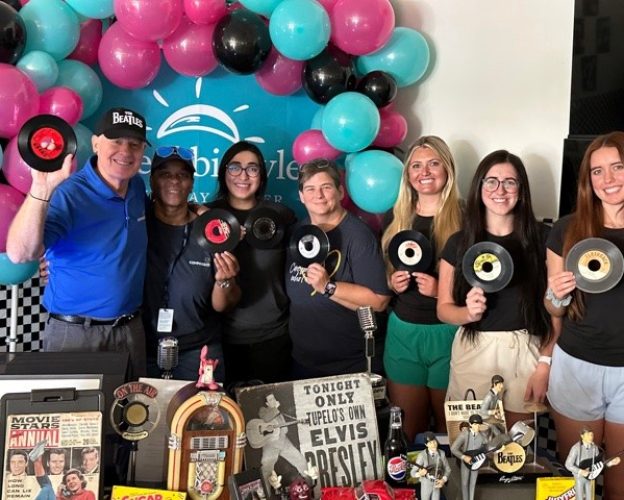 Our Compassus hospice program serving Flowood, Mississippi and surrounding communities was honored to be asked back for the 3rd Annual Abigayle Adult Day Center 1950s Sock Hop. It was a day filled with music, dancing, delicious food, and most importantly, heartfelt connections.
Volunteer Coordinator David Worman, also known as DJ Dave, the 'Motor Mouth of the South' represented Compassus doing his oldies Rock 'n' Roll show for residents and staff.  DJ Dave, known for his love of oldies Rock 'n' Roll, put on a show that had everyone tapping their feet and dancing along. The music from the 1950s really brought back memories for the residents and Abigayle staff. Our Compassus dedicated volunteers also showed up ready to spread joy, snacks, and goodies. They organized 50s trivia questions and handed out prizes to those who knew their 50s facts.
Undoubtedly the most heartwarming moments of the day were when the volunteers spent time chatting and reminiscing with the residents. They shared stories, laughter, and even danced together to the oldies. Seeing the smiles on the residents' faces was priceless The Flowood, Mississippi team at Compassus was truly honored to be part of this wonderful celebration. They brought their 'Care for who I am' culture to the Abigayle community and made sure that everyone had a fantastic time.
To Abigayle, the Compassus team expressed their heartfelt gratitude for allowing them to be a part of this special day. It's moments like these that remind us of the importance of connection, compassion, and making memories together. The 3rd Annual Abigayle Adult Day Center 1950s Sock Hop was a journey back in time filled with smiles, laughter, and the joy of living in the moment.
To learn more about our program click here. 
At Compassus, our value is in the compassion and expertise of our teams, which act as an extension of patients' existing care teams. We believe everyone who interacts with us should experience our individualized Care for who I am philosophy, from the care services we provide to patients and families to how we interact with our partners and one another.