Care Moment: James Andrews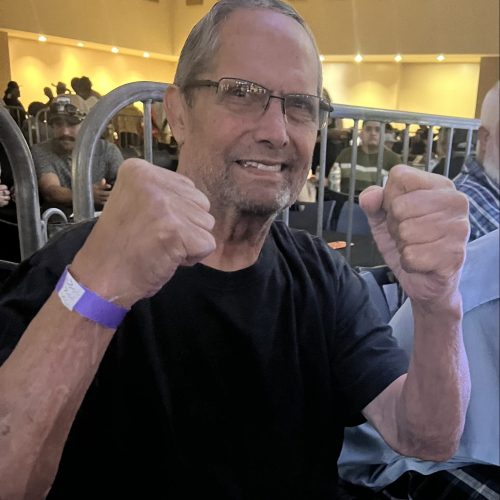 When James Andrews, a retired boxing instructor and proud veteran, started with our Huntsville, Texas program he expressed to Hospice Care Consultant Shelby Whisenhunt his lifelong passion for boxing. He revealed he had always dreamed of attending one more boxing match and although it had many years since he last saw a match, his love for the sport remained as strong as ever.
As a true Ambassador to our Care for who I am culture, Shelby got to work making James' dream a reality. Working diligently to first locate a match nearby she found an upcoming match. However, this was just the beginning of her mission. Shelby understood James and his family needed VIP treatment for this momentous occasion. To make it happen, she reached out to a non-profit organization for assistance. Working together they secured 6 VIP tickets to the boxing match for James, his family, and Shelby. Throughout the match and all the way home James was all smiles when he thanked Shelby for making his final wish come true and creating a cherished memory for him and his family.
Thank you to Shelby Whisenhunt and our entire Huntsville, Texas team for going above and beyond to fulfill a simple but profound wish while exemplifying our 'Care for who I am' culture. And an even bigger thank you to James and his family for the honor and privilege of being your chosen caregivers. 
To learn more about our Huntsville, Texas program click here. 
At Compassus, our value is in the compassion and expertise of our teams, which act as an extension of patients' existing care teams. We believe everyone who interacts with us should experience our individualized Care for who I am philosophy, from the care services we provide to patients and families to how we interact with our partners and one another.