Care Moment: Imogene "Genie" Schiegg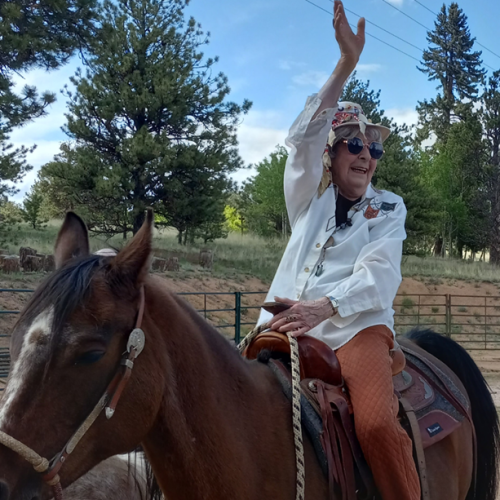 When Compassus Colorado Springs patient Imogene "Genie" Schiegg expressed her desire to go horseback riding for her 91st birthday, our dedicated team sprang into action to make her wish a reality. Through the combined efforts of our compassionate Colorado Springs team and the generous contribution from Dawn of Hope Ranch in Florissant, they were able to fulfill Genie's dream of becoming a cowgirl. Filled with excitement, Genie proudly shared that she had been practicing swinging her leg up high on a kitchen stool in preparation for the ride. Genie's horseback adventure held a special significance as she had recently experienced the loss of her daughter, who passed away in April of this year. After the exhilarating ride, Genie enjoyed delicious cheesecake, bringing a sweet conclusion to her grand birthday celebration. Thank you to the Colorado Springs team for your compassionate care and steadfast commitment to making Genie's birthday wish come true. Most importantly, we would like to wish a very Happy Birthday to Genie–thank you for allowing us the privilege to celebrate this momentous birthday and share with you our  'Care for who I am' culture.
To learn more about our location, click here.