Care Moment: Eula 'Faye' Koloch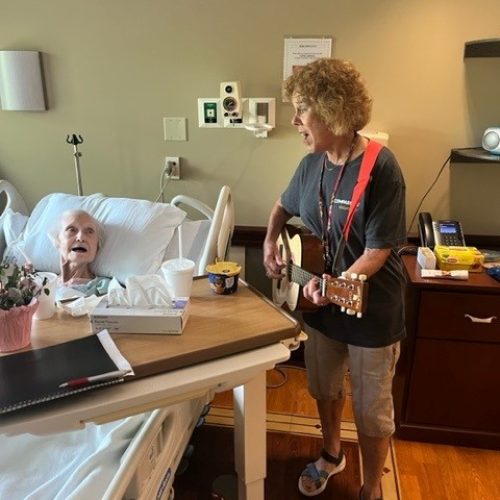 Compassus hospice patient Eula 'Faye' Koloch boasts a life well-lived. Born 1931 in Corbin, Kentucky, Faye was the youngest of 10 children. A home economics graduate from Berea College, she went on to become a wife of 40 years, a schoolteacher, a mother, grandmother, and great-grandmother in Indianapolis where she has resided for the past 35 years. Since coming to Compassus Faye has especially embraced the time she spends with volunteers Kathy and Diane. Joyfully singing along to old time songs with music volunteer Kathy and hours of visiting and reminiscing while holding hands with Diane always bring smiles and much quality time Faye cherishes and looks forward to each week.
As both volunteers Diane and Kathy can attest, the positive impact of the volunteer-patient relationship is not one-sided. Both women became volunteers as part of their own grief journeys after losing their husbands. "I found that the giving and caring gave not only the patient comfort, but also gave comfort to my heart" Diane shared.  "It has been a privilege to assist [Compassus] hospice patients and their families" Kathy added.
Thank you, Diane, Kathy, and all our volunteers for being the true heart of our hospice program and emulating our 'Care for who I am' philosophy. And an even bigger thank you to Faye for the privilege and honor of allowing us to be part of your life's journey.
To learn more about our Indianapolis program click here. To learn how you can be the difference in patient's and family's lives by becoming a Compassus volunteer click here.
At Compassus, our value is in the compassion and expertise of our teams, which act as an extension of patients' existing care teams. We believe everyone who interacts with us should experience our individualized Care for who I am philosophy, from the care services we provide to patients and families to how we interact with our partners and one another.