Home Infusion in Grand Blanc
We care for patients where they feel most comfortable — in the place they call home. Studies show that IV therapy at home is as safe and effective as therapy in a clinical setting. Care at home often costs less and patients tell us they recovery faster and experience less stress.
Opening your home to a caregiver requires trust. Our nurses complete a thorough onboarding process to ensure professional and compassionate care. Our team is trained to safely transition your care to a home setting while helping you maintain your independence and quality of life.
What Is Home Infusion?
Home infusion is a specialized form of home care that involves delivering medical treatments such as intravenous (IV) infusions, injections, and other therapies directly to patients in their homes. This type of treatment is ideal for individuals who cannot travel to a hospital or clinic due to illness or mobility issues and those who wish to receive treatment in the privacy and comfort of their homes.
Ascension at Home cares for patients where they feel most comfortable—in the place they call home. According to the National Home Infusion Association, home infusion is as safe and effective as therapy in a clinical setting. Additionally, care at home often costs less, and some patients have told us they recover faster and experience less stress.
Home infusion reduces exposure to hospital-acquired infections
In-house pharmacy helps ensure fast access to medications
Why Choose Home Infusion Services From Ascension At Home?
Ascension at Home team includes well-trained and experienced professionals provides comprehensive nursing services, nutrition support, medication, and equipment needs so patients can focus on their overall health goals.  Additionally, with Ascension at Home's infusion services, patients can get the care they deserve without leaving the comfort of their home—allowing patients more control over their well-being while having peace of mind that support and guidance is only a phone call away.
Additionally, benefits may include reduced hospital stays and avoiding the risk of infection, care in the privacy of your home and can be an ideal option to manage chronic diseases.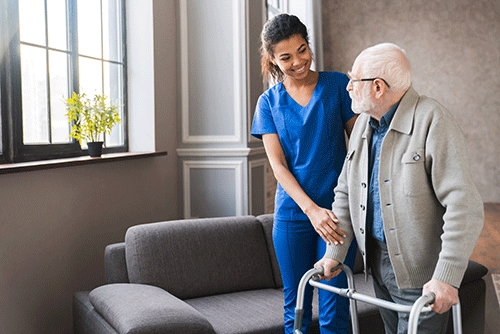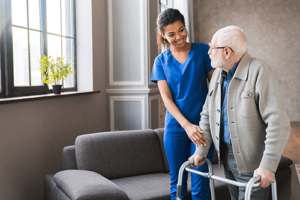 Our Clinical Excellence Includes The Following:
Accreditation Commission for Healthcare-accredited home infusion, specialty pharmacy, AIS, nursing, sterile compounding, and Pharmacy Compounding Accreditation Board
Nutrition support
Lab monitoring and management
First dosing
Patient education
24/7 clinical support
Peripherally inserted central catheter (PICC) certified registered nurses
State-of-the-art infusion and enteral pumps
Pediatric and adult capabilities
Open drug formulary/access
Call us for help with referrals, insurance coverage, or prior authorizations.  Our team is happy to answer any questions about home infusion.